Grandparents do have visitation rights!  In the state of South Carolina, the courts have the power to order Grandparent visitation.  To view the entire SC Grandparent Visitation Law click on "Law and Resources"
A Grandmother in Horry County, SC has won visitation rights.  Click on "Local News" to read more!
In South Carolina, if a Grandparent is raising their Grandchildren, and DSS decides that the Grandparent's are "too old" or "too sick" to care for them, they can remove the child from the home and place them in foster care.  There are cases in the family court system of South Carolina RIGHT NOW where this exact thing is happening.  Grandparent's are being forced to PROVE their GOOD HEALTH or lose their Grandchildren.  And the standard of "good health" is decided by DSS.
"Surely two of the most satisfying experiences in life must be those of being a Grandchild or Grandparent"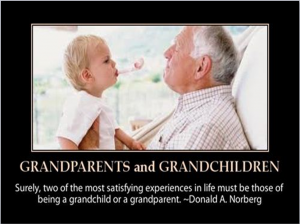 Written by 8 year old Grandchildren.  What is a Grandparent?

When they take us for walks, they slow down past things like pretty leaves and caterpillars.  They don't say, "Hurry up."
When they read to us, they don't skip.  They don't mind if we ask for the same story over again.
Everybody should try to have a grandmother, especially if you don't have television, because they are the only grownups who like to spend time with us.